Good Morning Everyone! Is anyone ELSE ready for the END OF THE WEEK ALREADY! MAN! This has been an AMAZING WEEK, but a VERY LONG WEEK! I'm thankful that I'm still here in Jesus Name! Money may be funny, change may be strange, family trippin, friends trippin, even people at WORK TRIPPIN! So much STUFF GOING ON, it's time to be thankful to God and keep on moving forward! All is well & all will work out in due time! I hope that everyone has a wonderful day and Great things are truly in store for those who are patient and wait!
I had the great opportunity to go another great Huff Post Live Segment on yesterday "Schooling Hip Hop"! You can check it out on the right panel of my Blog as we went into conversation on should Hip Hop be presented at schools as a MINOR. The University of Arizona & Howard University think so, but what do YOU THINK? Would love to hear your prospective on the matter and thanks for checking out the video!
FIRST OFF, I have to give a SHOUT OUT to everyone that put in some amazing input to my "10 Reasons Black Men ARE NOT Dating Black Women ANYMORE" Blog on yesterday! Click the Link Below to check it out yourself if you did not get a chance too and I would love to hear your input on the topic!
Here are some Amazing Bloggers who reached out! PLEASE, check out THEIR BLOGS, save them ON TWITTER, & Thank You all so very much for all your input on my Blog! All of your prospective & knowledge is so much appreciated! We are DEFINITELY GOING TO KEEP TALKING! BIG THINGS SOON TO COME!! STAY TUNED!
Mrs. Ticka - @TickaNascha
So I wanted to do a RECAP on all the thoughts, knowledge, & prospective that I received on yesterday. THIS BLOG WAS NOT A BASH ON BLACK WOMEN...PERIOD! We are getting to the point as a people that we have been sweeping this issue of Black Men and Black Women Dating under the rug for TOO LONG! I had to write this blog to start some conversation. WHY AREN'T WE TALKING ABOUT OUR PROBLEMS & ISSUES? WE AS BLACK PEOPLE LOVE EACH OTHER! We WANT to be with each other & be together. Black Men NATURALLY do not want to Date out of their Race! We want to be with Black Women but lets just put it out there & make it clear...WE ARE NOT PUTTING UP WITH BLACK WOMEN'S INSECURITIES, JEALOUSY, & MESS ANYMORE!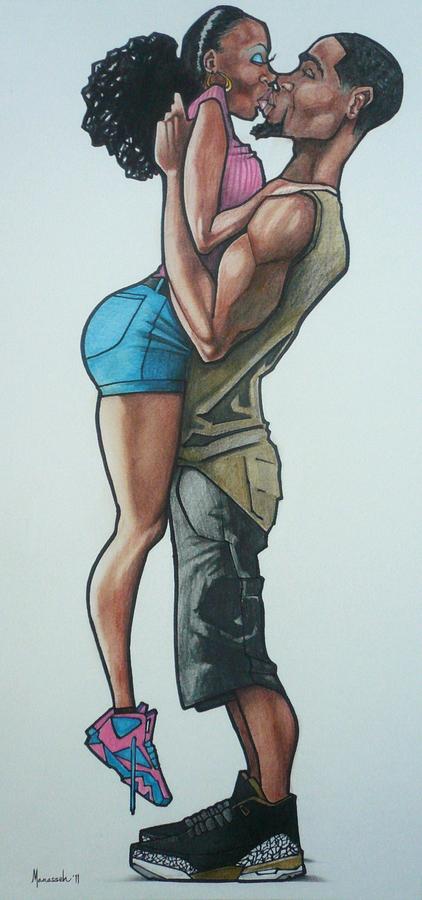 It's time to start talking about what is bothering us as Black Men when it comes to our Black Queens. I was told that my reasons we BS, Excuses, Opinions even! So what is it Black Women, when we are HONEST with you about how we feel about the ways that you treat us, talk to us, communicated us, all we hear is that they are just LIES! All we hear as Black Men is "You all need to stop acting like Black Women are the only ones that act like this!" OK, I know that other women MAY act like this, but I'm only concerned about BLACK WOMEN RIGHT NOW! Black Men have THESE REASONS for not wanting to really even be bothered by Black Women anymore. Are they going to be addressed, can we talk about them, or are they just going to be Black Men's excuses for dating someone else to Black Women?
I want people to get this from my Blog on yesterday: it's time to talk about what we are doing to each other as Black Men & Black Women. If you are building up who you are with, you two are making it work as a couple & family, and things are going great for you, TELL ME HOW TO DO THAT! Tell OTHERS how to do that. Those are the things we need to get out there to other Black Couples in the World. Because what I am seeing from my end, I'm seeing people too many Single Black Mothers raising kids by themselves & Black Men not trying to do anything with them! WHY IS THAT? I'm seeing Black Men and Women cheating on each other & they are with good people! No Excuse for that when you are getting treated RIGHT! We are trying REAL EXCUSES out there that are nothing but excuses! He is arrogant, she got bored, SILLY STUFF! Breaking up good relationships because you want 20% of what? Better Sex! But you don't want to work with in having better Sex with someone who loves you? You want the person with Muscles or a Fat Booty, but they don't give a care about you! JUST A SHAME ALL AROUND!
It's time to get it all out there and all off of our chest and WE WILL FIND SOME SOLUTIONS TO BLACK LOVE! Some stuff is just pure selfishness, arrogance, & ignorance! If you don't love yourself, stop trying to say that you love other people, because you are not doing anything but hurting people's lives & breaking people's hearts! We need to see more HAPPY Black Couples & people that want to make things work out for our kids & communities. Thank you for all the commentors & readers & hopefully this is the beginning of some great conversation that will allow us to come together better as Black People! READ...SHARE...LOVE! - PROFESSOR JT