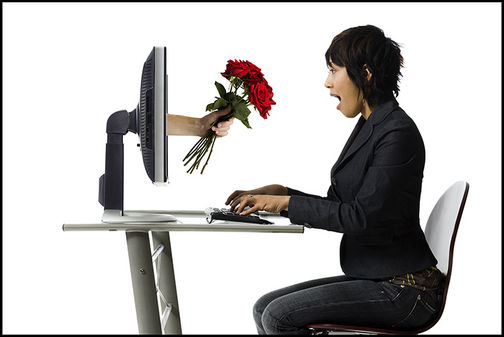 Good Morning Everyone! Pressing my way towards this vacation next week. I pray that everyone has a wonderful day and I want to say Spring is in the air, but here in Indy we have 3-5 inches of SNOW COMING! WOW! Oh well, let me keep this coat on a little longer! LOL! Keep on working hard everyone and watch what God has in store for you!
We have Match.com, EHarmony, Yahoo Singles, all kinds of websites where you can look for love. What's hardly ever mentioned are the people who meet people online every single day through Facebook, Twitter, Myspace, and other social media platforms. But with all the hype from Manti Te'o's situation and even with the MTV "Catfish" show, many people are wondering can they REALLY be safe finding love online?
We live in such a Electronic and Computer based World now, that it's hard not to meet people online and it's actually pretty easy to meet someone who you might find special online as well. With Instagram, you can almost fall in love with someone through their pictures! We start to talk to people through these websites and before we know it, we are starting to message one another back and forth, phone numbers are exchanged, and even maybe Skype or Google+ Chat comes into play. Before we know it, it's like we KNOW these people personally and we're trying to find every way possible to get online to talk with them. After a while, we start to get a little something in our belly that says "Maybe I could BE with this person?" We start to think about it, maybe even hint about meeting up one day and possibly seeing if a real "Computer Love" can happen. But, we always have the thoughts in our head "Is this person REALLY THIS PERSON?" Especially before Skype and Google+ Chat comes into play. Is this person REALLY who they say that they are? Can we trust what and who we are seeing on the internet?
My dating life after High School has consistently be of Women who I have met online or the only reason that we connected was through some online format. Now, I met PLENTY of people in person, don't get me wrong! When I was in College, we lived on sites like Blackplanet and Yahoo Chatrooms. STRAIGHT BOREDOM being in college in a little town. It's crazy when I think about it. My First Sexually, met online through Blackplanet. My First Fiancee, met online through Blackplanet. The Mother of my daughter, we met at Modeling and Acting School, which I found the information about the school, ONLINE! My Ex Wife, which I met in church, started connecting through Facebook. Even met and visited with many people through different online websites. I'll put it to you like this...this is a day and age people aren't clubbing, even going to church, or out period anymore. If you look at your day, probably almost 50% of it may be spent in front of a computer. It's easy to see someone who looks good to you and start to follow or friend them. With meeting people online, JUST BE CAREFUL!
There are many signs that who you may be talking to online may NOT be who they say that they are. I have even had people ask me was I who I was online. Which was WEIRD because I'm good looking, but I'm no Morris Chestnut or Laz Alonzo. You need to ask a lot of REAL QUESTIONS early. I even say if you are into someone, meeting them and seeing them the earlier, THE BETTER! I can remember watching one Catfish Episode where a girl fell in love with 3 pictures of a Man who said he was a Stripper. Never got anymore than that for a year! Found out he was some fat, black guy with 4 kids! RESEARCH who you are talking too! You can Google search and image anyone and you will find out details and pictures about them. And finally, always FOLLOW YOUR GUT! If something doesn't feel or seem right, GO WITH THAT! You will be happier in the end because it's nothing for a married person to be online frontin'! And no one has any time for any of that! You be real and expect realness out of who you are chatting with. I don't see nothing WRONG, with a little Internet & Grind! LOL! Be Safe, have fun and know that Love can be found online. Keep your options open! Who knows, your Spouse could be just a click away! READ...SHARE...LOVE! - PROFESSOR JT